Can robots create new jobs for mankind? Development and Prospect of China's robot industry WRC 2018
The third WRC World Robot Congress was held in Beijing recently under the auspices of the Beijing Municipal People's Government, the Ministry of Industry and Information Technology, the Chinese Association for Science and Technology, the Beijing Economic and Information Technology Development Zone and the Beijing Economic and Technological Development Zone Administrative Committee, Lei Feng. com reported. The theme of this Congress is "creating new momentum of wisdom and sharing a new era of openness", which has attracted the attention of all parties in the international community.
During the conference, the Forum on International Cooperation and Opportunities was successfully held on August 16. Jeff Burnstein, president of the American Robotics Industry Association, gave a speech as a guest speaker.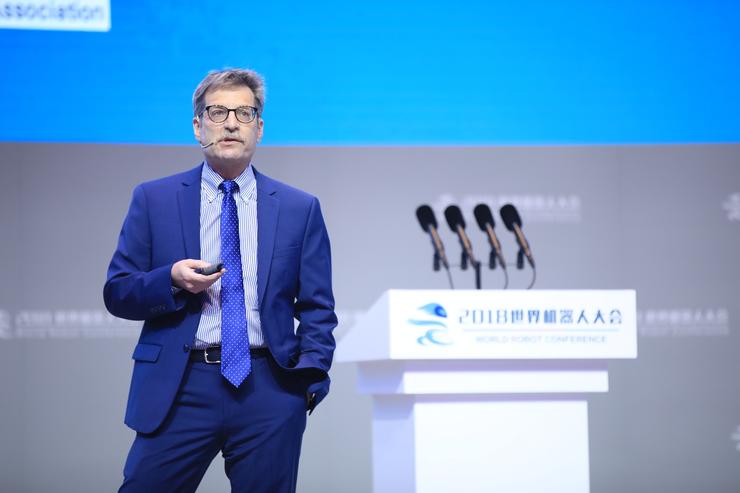 Following is Jeff Burnstein's speech at the World Robotics Congress in 2018. Lei Feng. com edited it without changing its original meaning:
First of all, thank you for inviting me to attend the second World Robotics Congress. Today, I would like to talk about some developments in the field of robotics in the United States. Some of them are similar to what Mr. Qu said, such as the development trend of cooperative robots, the development direction of service robots, and the whole value chain. We will talk about funding sources for venture capital and industry, as well as other robot related issues in the United States.
These figures come from the International Robotics Association, and the growth of the robotics industry worldwide is very healthy, with the most important growth coming from China. The compound growth rate from 2011 to 2016 is 12% globally. The main application areas are moving materials and welding. The main application industries are automobile and electronics.
Looking at where these robots are, you can see that most of them are in China. China's use of robots is growing very fast. China started using the first robot in 1961. Japan has been a leader for a long time. China has surpassed Japan in application, and then continued to do so. Rapid growth shows that China, Japan and the United States account for 74% of the global industrial robot market.
These are North American data for the first half of 2018, with orders down 21% year on year in 2018, which is surprising indeed. Specifically, we can find some promising industries and subdivide them according to different application fields. The real slide comes from the automobile industry. The number of robots purchased this year is down.
Robots are a cyclical industry, and the automotive industry buys more robots than it does, which in some years may account for 70% of all robot purchases. The real long-term success is to expand the scope of applications, not just the automotive industry, but also more small and medium-sized enterprises and industries.
The U.S. auto industry is down 66% this year, and auto parts are down 21% in the first half, but look at the rising industry. The order volume of the auto industry is decreasing, and the growth rate of other industries is very fast. In fact, this is a good thing, an increase of about 20% over the same period.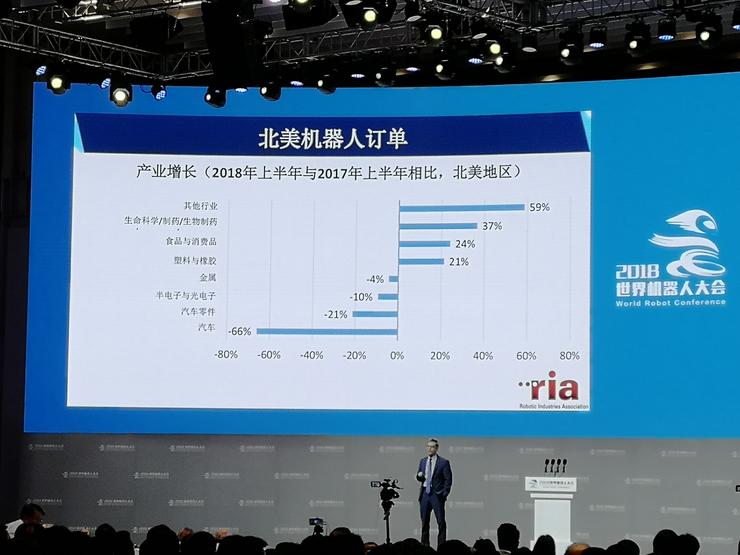 We know that the automotive industry is cyclical in the United States. Sometimes it's better. Sometimes it's not so good. Then there's a recovery and a decline. The key to long-term growth is the sustained growth of the non-automotive industry, which is divided according to the application of subdivision, the automotive industry is still a big head, other welding, coating, assembly and other areas are also more important, now the handling of materials is more important applications.
Because we don't produce as many industrial robots in the United States, otherwise these industrial robots are made in Europe and Japan, and some are now made in China. The United States is good at integration, we have a lot of systems integrators, a total of 172 integrator members, and will regularly communicate with them to talk about the future. In the first half of this year, we also passed with them, and now we should be more optimistic than before. This refers not only to robotics, but also to computational vision and related industries, so the entire integrator membership represents many industries.
Some associations believe that sales will exceed the first six months, and that business will rise after that, even if the overall market falls by 20%, there's some good news if you look closely, that is, more and more non-automotive customers are buying robots. A very good trend. Of course, many small and medium-sized enterprises are just starting to focus on robots, which may have been too expensive and complex to use in the past, but are now considering using robots to increase the degree of automation.
Integrators tell us that automobiles are indeed the largest sector, accounting for 20%, but also packaging, consumption, food, medical and so on, there is still a lot of growth potential to tap.
The biggest opportunity for the robotics industry in the past few years has been the development of collaborative robots. Xinsong also talked about their collaborative robots and generic robots. Now at least 36 similar robotics manufacturers are working on Collaborative robots worldwide. Collaborative robots do not have a very accurate definition, but in the eyes of the public, cooperative robots can work with people without affecting human security.
This concept has changed a lot. Robots were basically separated from humans in the past, but now it's very different. That's why many small and medium-sized enterprises are starting to focus on robots, because cooperative robots are theoretically easier to use, faster to install, require less space, and consume less labor. The resources are relatively few, and it looks promising.
But the number of collaborative robots doesn't really reflect the market, because some companies haven't reported the sales figures yet. The number has been released for some time. By the end of 2017, there will be more than 8,000 collaborative robots, and by the end of 2020, there may be more than 40,000 collaborative robots. Of course, I've talked to some companies and thought that growth might be faster than that, but it all shows that the robot industry is growing very fast, not only in the United States, but around the world.
At present, many industries have such applications, including automotive assembly industry, the final assembly plant wants to use robots to achieve, because the original robot and people to cooperate, including the final assembly worker is not particularly safe to do, the emergence of cooperative robots make this work more secure. The same is true in aviation, including inspection, welding, sealing, which are very good applications, and collaborative robots can play their role.
At present, the electronic industry in China may be the largest collaborative robot applications, especially in consumer electronics, in addition to assembly, distribution and inspection and so on. Life science is also a very potential field, and the fluctuation of the number is very large. In the future, cooperative robots may grow very fast in the field of life science.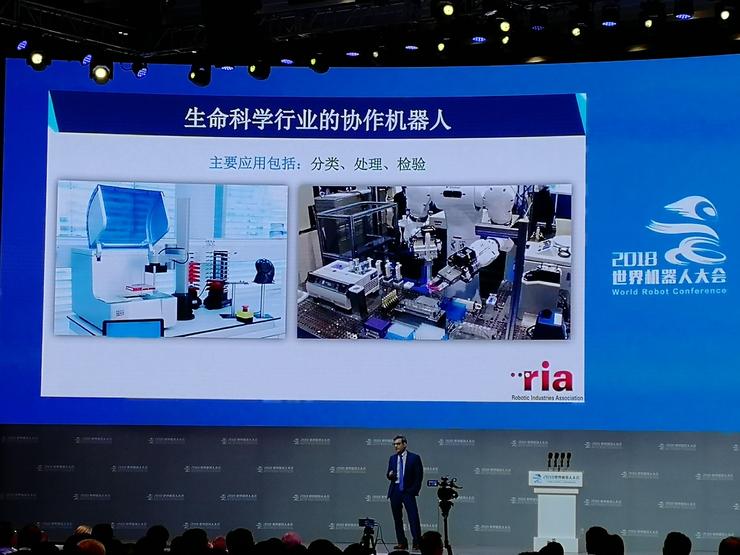 Traditionally, many robots have been seen in factories in North America, and service robots have been talked about for years. Some of the previous visions have come true, but it is very difficult to develop such useful service robots, especially those used outside factories.
Now see some areas including medicine, agriculture, logistics and defense, service-oriented robots have some use, and in this area of application growth is very fast. Of course, the actual rate of growth is still not as fast as we expected, including at large exhibitions, and we may be able to use more service robots in the future.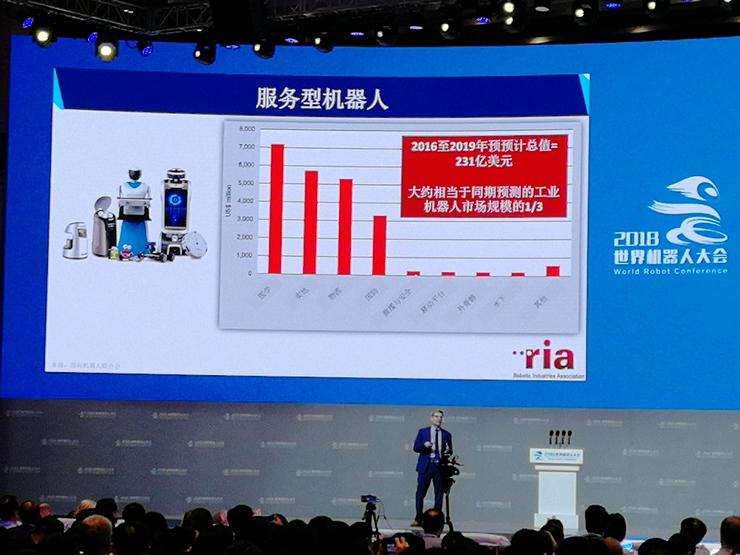 Robots for medical, rehabilitation and skeletal rehabilitation are used in surgery, including brain surgery. Home robots are also a tangled area. Maybe people think of robots that can help you wash, cook, and clean your clothes. Now there are robots that sweep the floor. Home robots will take a lot of time to become more useful in the future. We need more robots to take care of the elderly in the future as aging becomes more and more serious, and we are looking forward to more development in this field.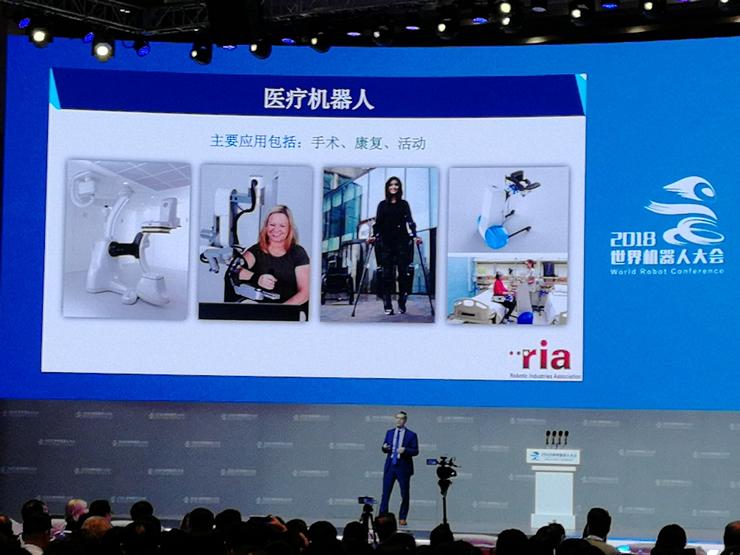 Military robots are a controversial area. Many people worry that military robots may be very dangerous to humans, but many of them are protecting humans. For example, Explosive-disposal robots can help people dismantle some bombs, and army-supported robots can carry some supplies for soldiers. These are for the army. Obviously, it's a good thing.
Agricultural robots are also very helpful because food is very helpful to everyone, and if robots can make the food system more effective it is a very positive phenomenon globally, not just for North America.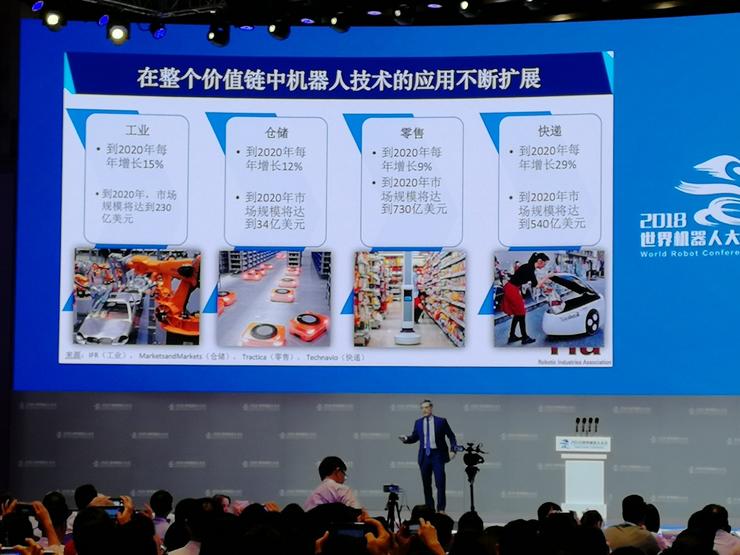 Let's look at the value chain of the entire robot industry, and every industry is expanding. The industry is growing by 15% a year, and it is the largest robot market, as is the warehousing and logistics industries, which are growing rapidly. Retail is also catching up. Robots can be used in stores and restaurants. More and more people interact with machines, and some can deliver their products to their homes on the street in food express.
This is Alibaba's logistics robot, as it is in the United States, and you can see that Amazon's large supermarkets do it, not just in warehouses, but also in sorting materials, including robotic vision technology, to help make these deliveries more efficient and to keep distribution centers away from people. The center of the mouth is nearer, and the product can be delivered to you more quickly, and the product can be delivered to you by pressing a button.
The public has heard that AI is as smart and threatening as humans. I think distance is a long way from threatening humans. I don't think this universal AI will soon be available.
What are the effects of robots on human work? I feel that robots are actually not destroying human work, but creating new jobs.
It's a McKinsey study. Automation will take 800 million jobs out of the world, but it will create 89 million jobs. That's true, because robots will create a lot of unimaginable jobs, and predicting the future is always less successful. Twenty years ago, who could have imagined a search optimizer? Or the role of social media management manager? Twenty years ago, there were no platforms, so a lot of work was constantly being created.
That's what's happening in the U.S. over the last two decades. The more robots are sold, the lower the unemployment rate is. The more robots are sold, the higher the unemployment rate is. So it looks like robots aren't making the unemployment rate higher, because companies will invest more in innovation and automation as innovation improves. Now the United States is in an era of low unemployment, benefiting from the investment and use of a large number of robots.
With regard to the gap and impact of skills, we still have 2 million of the employment gap. There are more jobs in the United States than there are job seekers, and the technical barriers prevent some uneducated job seekers from doing these jobs. We need community training to make them truly competent.
Jeff Burnstein joined the American Association of Robotics Industries in 1983 as a public relations manager, and then held several senior positions with the American Association of Robotics Industries, Advanced Vision and Imaging, and the Association for Motion Control and Electromechanical Engineering. He has been the chairman of the Association of Advanced Automation Industries A3 since 2007, the flag of the association. Subgroups include the American Robotics Industry Association (RIA), the Advanced Vision and Imaging Association (AIA) and the Motion Control and Mechanical and Electrical Association (MCMA).
Founded in 1974, the American Association of Robotics Industries is the representative of the International Federation of Robots (IFR) in North America. Jeff Burnstein is a member of the Executive Committee of the International Robotics Union and often represents the American Robotics Industry Association at the world's top conferences in North America, Europe and Asia.
"Automation is changing all aspects of our lives, bringing us a better life, creating new and better jobs, providing us with better and cheaper goods, and giving us a longer, healthier life." Every time he spoke, he focused on the overall trend of the robot industry. He had not only professional insight, but also pure ideals and feelings for conveying rigorous messages to the industry and the public, building a good industry ecology and promoting the development of the robot industry.
Editor in chief:
AiShangHai LoveShangHai