Waymo "entering China": China's road is not easy to go.
It seems to be quietly that Waymo, a Google driverless company, has entered China.
According to the State Enterprise Credit Information Publication System, a wholly foreign-owned corporation named Huimo Business Consulting (Shanghai) Co., Ltd. was registered and established in Shanghai Free Trade Zone on May 25. With a registered capital of 3.5 million yuan, Waymo, a self-driving company owned by Alphabet, the parent company of Google, holds 100 percent of the shares. The legal person is also the legal officer in charge of Waymo.
As soon as the news came out, the frying pan was blown up. But in fact, Waymo entered China is not an unexpected news. Both Waymo and the Shanghai municipal government have already prepared for this.
On July 17, Chen Mingbo, director of the Commission, visited a number of Silicon Valley enterprises, including Waymo, according to the official website of the Commission. The official notice reads:
By letter Committee actively strive for major projects settled in Shanghai, all work has achieved good results. After vigorous efforts, a consensus was reached with a group of enterprises in the landing of major projects. The delegation also tried driverless cars, further strengthening Shanghai's determination to speed up the development of driverless car technology and industry.
Then, in July 25th, the Waymo China head Wang Min appeared for the first time at the unmanned distribution conference. According to media reports at that time, Wang Min said Waymo is preparing for the Chinese office.
In addition, the Silicon Star has found that the need for supply chain jobs on Waymo's official website also highlights the need for Asian experience.
As a "Google Series" company, Waymo's news corresponds to Google's recent moves in the Chinese market. According to Bloomberg, on August 17, Google founder Brin publicly discussed plans to design a separate search engine for China for the first time at a weekly meeting, the first time since he quit China that he said he wanted to return to the market. In addition, there was news last month that Google was in talks with Tencent, Wave and other Chinese companies to try to cooperate in bringing Google's cloud services products to China. In addition, there are constantly new recruitment, small programs launched on WeChat and so on.
As of press release, Waymo official has not replied to silicon star's inquiry.
After the entry into China, the challenge really begins.
Waymo's entry into China was described by industry insiders as a "slim chance" at the beginning of this year, but this year, both the environment and specific policies have brought opportunities for foreign car companies and driverless technology companies.
In May this year, three ministries and commissions issued the "Intelligent Network Road Test Management Specification (Trial)" formally implemented, in a series of key issues to make provisions at the same time, the specific operation will be delegated to local governments. On July 6, Daimler became the first foreign car company to obtain a test license for Level 4 Road in Beijing. On July 12, Musk visited China and finalized Tesla's sole proprietorship in Shanghai.
But unlike Tesla, which makes cars, the real challenge is how Waymo, a technology company that provides automotive solutions, will do business in China when it sets up its China branch.
According to China's current regulations, the use of maps in autopilot testing and products must not come from foreign companies, and map data is crucial to the development of autopilot technology. Prior to that, Tesla had to give up Musk's favorite Google Map when it joined China and start a new four-dimensional partnership with Tencent. Waymo has its own high-definition maps and is considered to be a leader in the industry, so testing them in China will be a challenge. In addition, unmanned pilots rely heavily on data, and current Chinese laws require that servers be set up locally to keep data locally.
What will be the focus of Waymo's entry into China? From the business scope of business information, Waymo China's business scope is "business information consulting, business management consulting, trade information consulting, supply chain management consulting, logistics information consulting, design and testing of auto driving auto parts and products, and supporting related services". The supply chain and autopilot components are more obvious business scenarios.
Similar to Tesla, although Tesla, which chooses to build a wholly owned plant, will still be treated as an imported product with a 25% import tariff and will be hard to get a government discount on electric vehicles, it will still help Tesla to get closer to components suppliers and so on, thereby reducing costs. Waymo setting up a company in China will also help to save costs in the supply chain.
Because many of the auto-driving related products are not localized enough, it is also an opportunity for foreign companies to provide auto-driving related components or solutions for Chinese auto manufacturers and auto-driving companies. Mobileeye, which was acquired by Intel, announced in July that it would provide Baidu with its AI-powered EyeQ chip to process visual information captured by cameras about the car's surroundings, followed by other Chinese carmakers. Waymo can also consider such a business.
And in the area of road surveys that people are most concerned about, real large-scale road surveys require licenses, even if the preferential policies still need time. But Shanghai Autopilot Test Base has officially opened, and if Waymo wants to do road tests in China, it may start from these closed bases.
In addition, Waymo has been working with the U.S. troupe to explore the area of no-person streaming, similar to its domestic partnership with Wal-Mart in the United States. These are all possible business opportunities, and will help to explore commercialized Waymo.
It is expected to have a positive impact on China's automatic driving industry.
Waymo is recognized as the industry's leading unmanned driving technology company, and its entry into China will certainly have an impact on the hot Chinese autopilot market.
Originating from Google's unmanned driving program, Waymo has an early start, accumulated 8 million miles, conducted various operational tests, built user experience feedback systems, and relied on Google's massive data and talent pool advantages, making it a clear leader in other competitors.
The Waymo test can be seen on expressways, local roads and other roads in Silicon Valley. Waymo has also conducted a variety of actual operational tests, built user experience feedback systems, and relied on Google's massive data and talent pool advantages, Waymo is undoubtedly ahead of other competitors.
According to the annual report issued by the DMV, the frequency of human intervention in the 2017 Waymo Road Survey continued to decrease, to 0.18 per 1,000 miles, leading other manufacturers.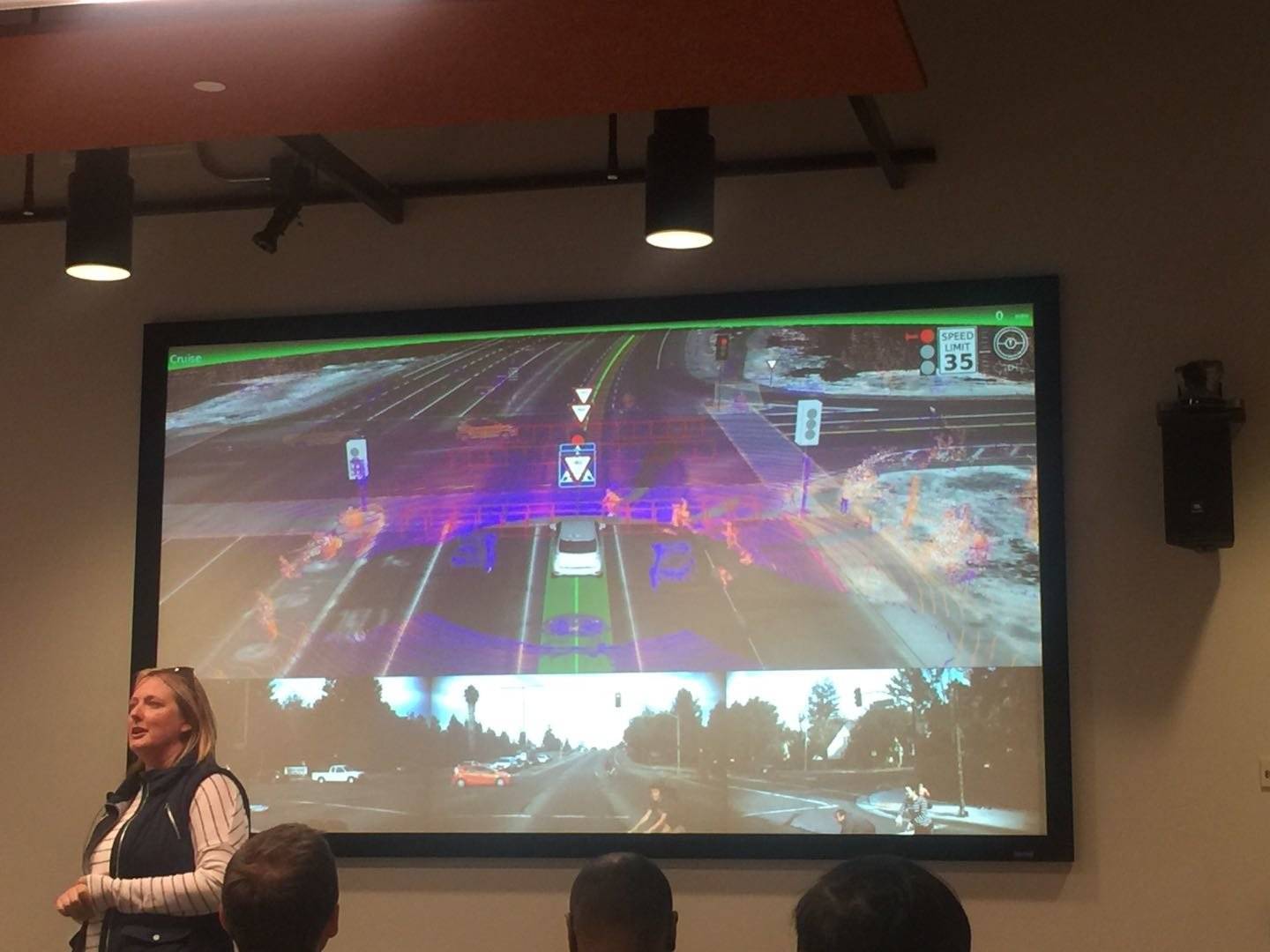 Silicon star's Waymo annual sharing Conference
This advantage has brought changes to the American autopilot market. According to a new report in the New York Times, another major player in the U.S. autopilot industry, Youbo, has recently hesitated about how to handle its autopilot division. The company's big voice wants to sell autopilot, because the departments have been burning money.
Chris Anderson, founder of the long tail theory and founder of 3D Robotics, said:
"Anyone who knows what's going on in the field of autopilot has a consensus that Waymo is five to 10 times ahead of everyone else, whether it's core technology or data. It seems that there is no need for further improvement.
A founder of China Manufacturing Intelligence, who asked not to be named, told Silicon Star that many domestic investors would ask why they did not do autopilot because their company's expertise was so similar to the technology behind drones. "This proves that the domestic auto driving industry is very bubble." He said. And the answer he gave is that Waymo is too strong to enter again without any chance.
In the past, China's technology industry has suffered a lot from "making cars behind closed doors." In today's red-hot Chinese autopilot industry, the industry's top companies are expected to no longer be absent. Domestic companies and investors can see more clearly what a truly first-class technology accumulation looks like, and companies that want to prove the strength of China's pilotless technology also have more opportunities to communicate and compare, which is good news.
The best way to make real progress is to bring in the strongest players in the field, not to spoil your company by deliberately building barriers.
Editor in chief:
AiShangHai LoveShangHai